COST OF EDUCATION IN IRELAND – HOW CAN PARENTS PLAN AHEAD?
Cost of Education in Ireland
In 1967 Ireland introduced the Free Education Scheme that ensured that second-level education would be available to every child in the country. It was a revolutionary and much-lauded scheme but how 'free' is our free education system?
Zurich Life recently conducted a survey on the Cost of Education in Ireland in 2021. The results were sobering, especially if you are the proud parents of 4 teenagers, all aspiring to go to college. On top of what you have already laid out to get them this far, you can look forward to being a further €200k lighter before the exam is finished!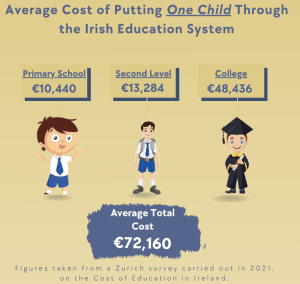 For many parents in such a position, they have no option but to borrow the money, sometimes by way of a mortgage top-up or personal loan, in order to cover the cost. Over the years we have seen many asset-rich parents turning to debt in order to fund college fees.
How can Parents plan ahead for this cost?
Others will have been able to plan ahead and have been saving for many years, in the expectation that this thunderbolt was coming their way. Where they could afford to do so, many parents started to save for education costs by placing the monthly Child Benefit Allowance (currently €140 per child) aside so that a fund would be in place for the children when most needed. Over 18 years that figure alone would come to €30,240. On top of that, the fund would be expected to achieve steady growth over the 18 years.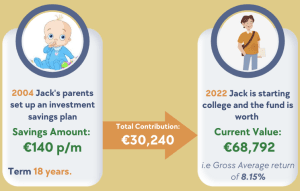 The above figures are based off the Zurich Dynamic Fund from 05/07/2004 – 05/07/2022 (18 years), which returned an average of 8.15% p/a. The figure doesn't include taxes, fees and charges.
Like everything saving money on a regular basis is a habit. Here are 5 tips to help you save on a regular basis:
5 Ways to Improve your Savings Habits
Create the habit

Get into the habit of saving the same amount each week or month. Stop putting it on the long finger and just start. It doesn't matter how big or small the amount is, just get into the habit of setting X amount aside each week/month.

Set up a Standing Order 

Set up a standing order for the savings to be taken from your current account each week/month. This will save you the hassle of transferring or lodging the funds from one account to the other each week. Try to keep the payment day within a day or two of your wages hitting your account. This way it is gone before you have time to spend it and very often after a couple of weeks you will find that you don't even miss the money leaving your account.

Be disciplined

Don't dip in and out of the account, if possible, unless it relates to the savings goal. If you can't resist the temptation put it into a notice deposit account or set up a savings plan away from your main bank, where you will be less likely to access the funds on impulse.

Look at your options

You don't have to save through your bank. For long-term savings of 5+ years, you are better off speaking to a financial advisor about setting up a regular savings investment plan, where your savings will have the potential to earn far greater returns than they would in the bank.

Review your spending

If you struggle to save and find that your account is constantly on the brink of being overdrawn, sit down and review your spending. Speak to a financial advisor if you need help with this and they will put a plan in place to help you achieve a more healthy-looking bank account
The most important thing is to plan ahead, stop putting your savings plan on the long finger and if possible make sure that you are not heading back into debt when third-level fees slap you in the face!
If you would like more information on child saving plans or regular savings and investments in general drop us an email or call us on the details provided here. We would be delighted to help.
Warning: Past performance is not a reliable guide to future performance.
Warning: These figures are estimates only. They are not a reliable guide to the future performance of this investment.
Warning: If you invest in these funds you may lose some or all of the money you